Just across the Dumbarton Bridge in the East Bay, lies Ardenwood Farm. This farm, now a park, was established by George Patterson around the time of the gold rush. He bought land with the money he earned working for farmers near Mission San Jose and became one of the wealthiest and most respected men in the area. His original house and land now form this park which still functions as a farm the way it did a century ago.

Purely by chance, it also enjoys occasional fame when the Monarch butterflies come there to spend the winter. For the last few years their population seemed to be dwindling, but in December 2011 they appeared to come back in full strength.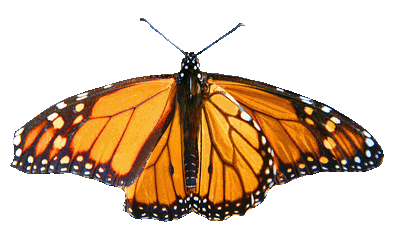 They are an unusual butterfly in that they are known to migrate over huge distances - they may be encountered anywhere from Western Canada down the western states all the way to Texas and Mexico. But these migrations last longer than the lifespan of a butterfly - it takes multiple generations to fly south and back again, so that a given population cluster may be three or more generations removed from the original cluster that migrated away from a given area.
Salmon will return from the ocean to the stream where they were born. Monarch butterflies will return from thousands of miles away to the grove where their great-grandparents were born - how they know to navigate and find the exact clump of trees is unknown.
There are only a handfull of places where the Monarch butterfly collects in large numbers - clustering in large clumps hanging from tree branches likes grapes on a vine. One of these places is Ardenwood Farm.