In Menlo Park, A Farmers Market Thrives
In June of 2022 it celebrates its 30th Anniversary
This web-page recounts some of the history covering those three decades
Half-an-hour's drive south of San Francisco, along the edges of the bay, a string of towns and cities line the peninsula like a string of beads – with famous names like San Mateo, Menlo Park, Stanford and Palo Alto. But what used to be separate towns in the last century have since grown together to where the borders between them are no longer apparent to the casual observer. Ever since the middle of the last century, this region has attracted successive waves of "Hi Tech" industry such as Hewlett-Packard, Intel, IBM, NASA, and Xerox-PARC. Then since the turn of the new century, this growth has accelerated even further with names like Apple, Google, and Facebook dominating local industry – earning the region the encompassing name of "Silicon Valley".

It was here, in the City of Menlo Park nearly 30 years ago, that five local women detected a need. It was hard to define exactly what the problem was, but somehow, with the rapid influx of Hi-tech workers and associated supporting businesses, the town was starting to lose its centralized sense of community. The influx of new residents needed to be embraced and integrated to foster a feeling of joint community, of common ownership, of belonging. Something that would attract people and bring them into the downtown and give it some life.

An idea was suggested... Maybe a weekly Farmers Market in the heart of the town - maybe that could attract a core of loyal followers and provide a cohesive gathering place and sense of identity for the community.

The actual decision to "Do it!" and plan the opening, took place at a picnic table in a local park...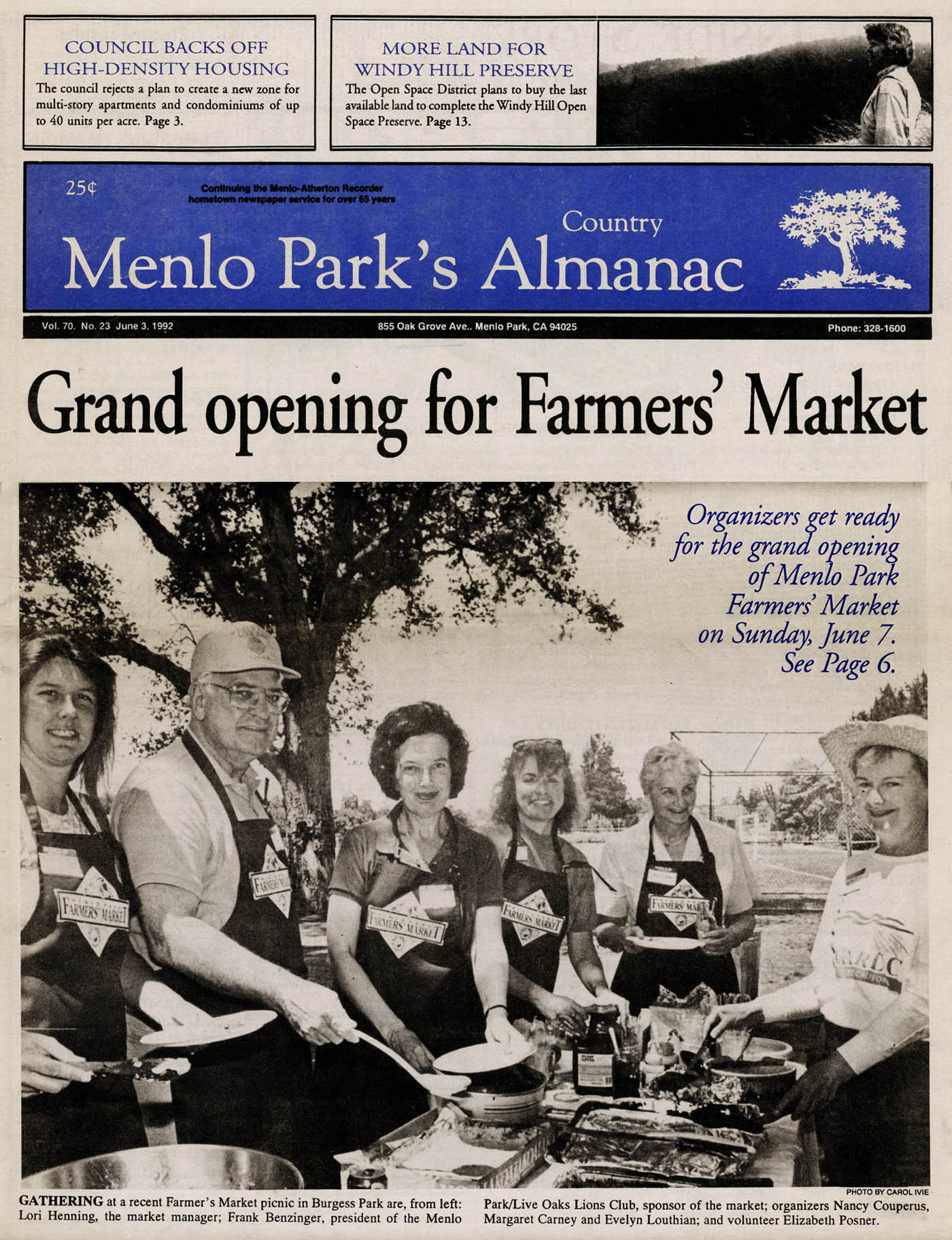 This meeting to actually organize and launch the market could only occur after over a year of wrangling to get permits from the City and approval from the Fire Department.

The initial suggestion to have a Farmers Market in downtown Menlo Park was met with lukewarm reception at best, and strong opposition from some quarters of the community.

The death-blow to the initial proposal came when the Fire Chief refused permission on the basis of it constituting a public safety hazard.

However... nothing daunted, the organisers redoubled their efforts and minds were changed.
| | |
| --- | --- |
| | After the collapse of the initial effort to organize a market, the local press took notice and started interviewing both local residents (who were strongly in favor) as well as some of the decision-making officials... and this had the salutary effect of changing some minds - so as the next spring season approached, a second request was filed with the authorities. This time the reception was a lot more positive. (Thank you - Menlo Park Country Almanac...) |
At the time, the implicit assumption was that the market would run for just the summer months rather than year-round. So after the failure to get the market going in time for the 1991 season, the organisers regrouped in the fall and on into spring of 1992 for another attempt.

Meanwhile, a new party had entered the arena - a large chain of "Specialty Food Market" stores was looking into the idea of establishing a branch in Menlo Park - specifically in the building that had been recently vacated by the "Co-op" supermarket - and right next-door to the location where the market was now tentatively planned.

To the surprise (and gratification) of the organisers, this new member of the downtown community enthusiastically supported the idea of a weekly Farmers Market. Rather than fearing competition posed by the extra availability of fresh fruits and vegetables, the management of this chain pointed out that the extra traffic of shoppers to that area would actually help business rather than hurt it.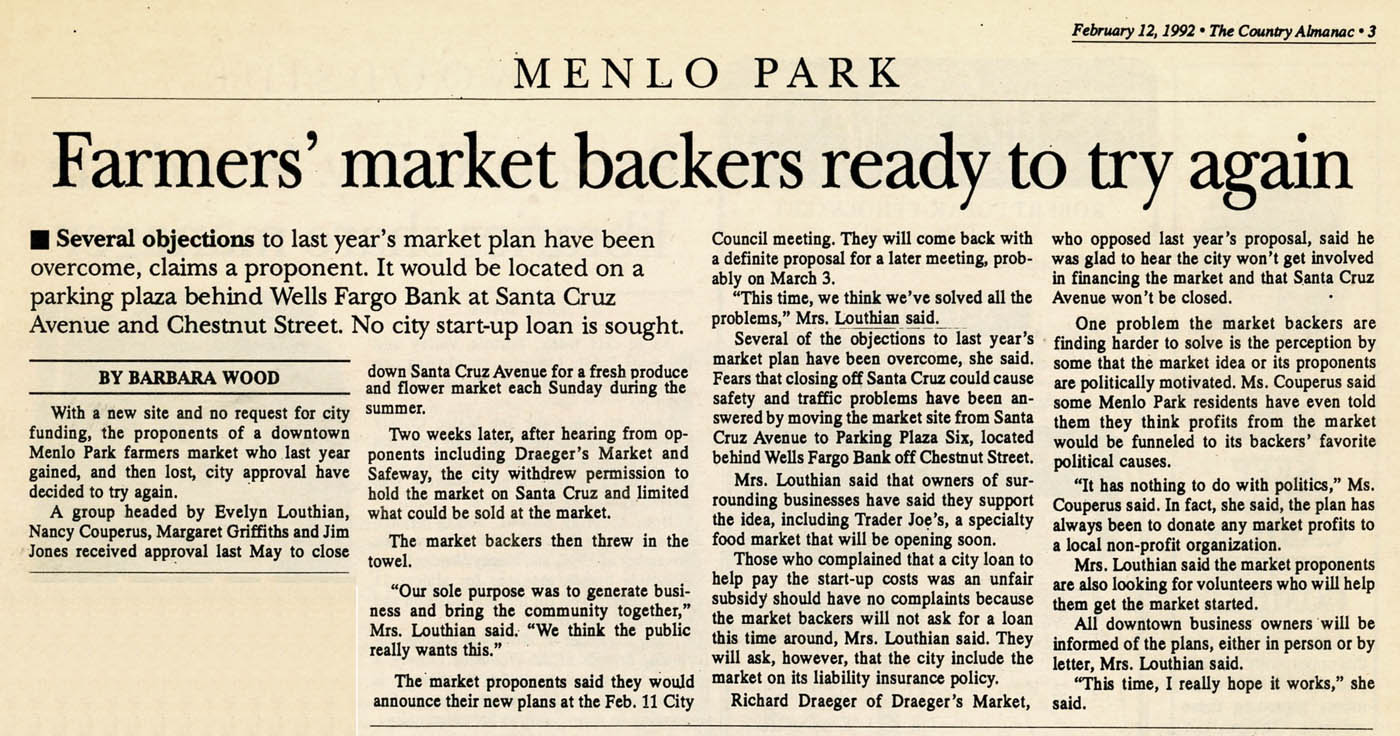 And the rest (as they say) is history...

The small group of organising ladies then approached the Board of the Menlo Park Live Oak Lions Club, with the idea of the club becoming the sponsor of the Farmers Market. In exchange for providing the infrastructure umbrella for the market (a Board of Directors, Bank Account, Insurance, etc.) any profits left over from the stall fees paid by the Farmers, would flow to the various charities supported by the Lions Club.

The Board saw the potential - not only would this boost the club's membership (the organisers became Lions) but it fit right in with their mission to support the local community and related charities. Local farmers would be invited to set up a stall in a in a downtown parking lot offered by the City of Menlo Park to be set aside for this purpose every Sunday.

The market would operate year-round on a weekly basis, and the Lions would charge each stall holder a small fee which would be used to pay for operating expenses such as County License fees, Liability Insurance, and a part-time manager.

And thus was born the Menlo Park Farmers Market, now entering its third decade in operation. It continues to thrive as a weekly produce market, bringing nature's bounty from the nearby farms, fresh to the consumers living and working in the hi-tech world of Silicon Valley.

It does this not only by making fresh produce available to the shopping public regularly every week, it also helps sustain a community of farmers - some of whom have been bringing their fruits and vegetables to the market since the market started - and some of the second generation of those founding families are there every week selling their fruit and vegetables.

The market continues to be sponsored and run by a dedicated group of volunteers - members of the local Menlo Park Live Oak Lions Club. And this further goes to amplifying the benefits of the market to an even wider community. After covering the costs of operating the market, the profits from the farmers' stall fees go into the activity account of the Lions organization for further distribution in support of needy organizations.

But of even greater impact - many of the farmers donate their excess produce at the end of each weekly market to be collected and distributed by The Lions to local food kitchens and other organizations that help feed those in need. The amount can vary from a few hundred pounds of fresh food during the depth of winter when harvests are meager, to over a thousand pounds per week at the height of spring and summer.

These donations by the Farmers of excess produce over the last 30 years have now totalled over 1,000,000 pounds. The food is collected at the end of each market by members of the Lions Club, as well as some dedicated independent volunteers, and then delivered to area non-profits such as St. Anthony's, St. Vincent De Paul and Redwood City Free Clinic to name a few. Our shoppers buying the produce and other items have allowed our Club to contribute over $990,000 in donations to various community groups and Lions service activities to help those in need. These funds were raised from stall fees paid paid by the Farmers each week.

At the time the Market first started operating, just under 30 different Farmers had been recruited. The following is a hand-out leaflet given to the earliest customers to help familiarize them with what was available at the market.

In the intervening decades, some farms have left and other new ones have joined the market. Sometimes merely a name changed as the farm grew or was inherited by a new gneration of the original family. There are a number of farmers today whose parents were among the founding group of farmers at the market.

Below we list thirty-seven of our our current farmers, close to half of them (sixteen in number) have served us since the first day, and another eleven have been with us for twenty years or more. That means that approximately three-quarters of our vendors have been coming to the market for over two decades.
Yrs
Farm Name
Location
Produce
30
F/V Anne B
Half Moon Bay
Fresh fish, crab, smoked fish, lox
30
Heirloom Organics
Hollister
Assorted organic greens, fresh herbs, root crops, etc.
30
Four Sisters Farms
Aromas
Organic kiwi
30
Lucero Farms
Lodi
Organic strawberries, raspberries, melons, vegetables
30
Kashiwase Farms
Winton
Organic peaches, nectarines, pluots, plums, apricots, cherries, almonds
30
Medina Berry Farm
Watsonville
Organic strawberries, raspberries, blackberries, blueberries
30
McGinnis Ranch
Royal Oaks
Organic strawberries, flowers, jams, carrots, lettuces, etc.
30
K & J Orchards
Winters
Stone fruit, apricots, cherries, Asian pears, apples, figs, dried fruit
30
Padilla Farms
Merced
Assorted vegetables, including potatoes, yams, cantaloupe, fig
30
Mora (aka Mello-dy Ranch)
Watsonville
Chicken/duck/quail eggs, apples, jam, preserves herbs, lemons,
30
The Fruit Tree
Winters
Almond/pistachios/walnuts flavored and raw, nut butters, jams
30
Bounty of the Valley Farms
King City
Organic lettuce, spinach, garlic, onion, asparagus, etc
30
Hamlow Ranches
Denair
Cherries, apricot, melons, citrus, corn, sweet potatoes, almonds, raisins
30
Happy Quail Farm
E. Menlo Park
Variety fresh & dried peppers, rhubarb, cucumbers, etc
30
Swanton Berry Farm
Davenport
Organic berries
30
Tunitas Creek Aviary
Menlo Park
Honey & honey products: comb, hand lotion, candles
28
Tapley Farms
Tulare
Stonefruit, plums, cherries, apricots, citrus, melons, pomegranates, juice
25
Zuckerman's Farm
Stockton
Asparagus, variety of potatoes, melons, tomatoes
24
Magnolia Produce
Paso Robles
Hydroponic lettuces, fresh herbs, tomatoes, cucumbers, etc
23
Cozzolino Nursery
Half Moon Bay
Flowers, eggs, lettuce, chard, vegetable starts
23
Northridge Farm
Hollister
Artichokes, broccoli, cauliflower, brussel sprouts, strawberries
22
Nhia (aka Moua Farm)
Fresno
Asian veggies, tomatoes, beans, peas, cucumbers, leeks, etc.
22
Flowers-by-the-Sea
Moss Landing
Daffodils , narcissus and other flowers
22
G & S Ranch
Escalon
White/yellow/bicolored Corn
21
Cache Creek Lavender
Rumsey
Fresh & dried lavender, lavender soaps/oil/sachets/lotion, etc
20
Flying Disc Ranch
Thermal
Fresh variety of dates, grapefruit
20
Astone's Proteas
Aptos hills
Protea flowers, plants and wreaths
14
Far West Fungi
Watsonville
An array of Organic mushrooms, dried & jerky mushrooms
13
Triple Delight Blueberries
Fresno
Organic & conventional blueberries, jam.
12
Georgio Zografos
Tehama
Olives, olive oil, vinegar, honey
11
Karin Johnson Bakery
Pleasanton
Wide assortment of baked goods: tarts/cookies/scones, etc
9
Achadinha Ranch
Petaluma
Pastured meats, cow/goat cheese, butter, yogurt
9
Pulido Farms
Hollister
Fresh and dried Blenheim apricots
6
Wise Goat Organics
Hollister
Fermented foods, soups, etc.
4
Little Sky Bakery
Menlo Park
Wide variety of breads, cinnamon buns
4
Charlotte's Truffles
Menlo Park
Hand-made truffles, chocolate bars, etc.
3
Perez Bothers Farms
Reedley
Apricots, cherries, grapes, citrus
Thirty-seven Growers and Vendors in 2022.
Sixteen of which were present 30 years ago at the start, a further eleven have been coming for over 20 years.
That means that not quite three-quarters of our vendors have been with us for over two decades.
In the mean time, many new friends were made amongst the farmers and the volunteers. Below is a collage of portraits taken over the years. Some of these people have passed on, some just look a bit older, and some have hardly changed. Some of these pictures were taken ten, twenty, and some even thirty years ago - while others are fairly recent.

But each one of these people has left their stamp on the market - to make it what it is.
We honor all these people as well as those not shown here. Without their dedication, sweat, and laughter - there would be no Market as we know it. It would not have lasted thirty years and progressively grown in strength to serve as a cohesive hub for the community of Menlo Park and its immediate surrounding metropolis,

An island, grounded in the very earth that supplies the basic necessities of life - surrounded by a sea of high-technology that is today's Silicon Valley