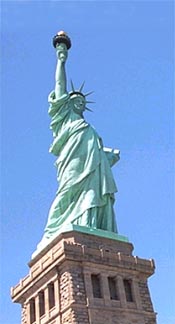 | | |
| --- | --- |
| | In April 2001, the names became available on the web of those immigrants who entered the United Sates through the famous Ellis Island portal. This is where all immigrants arriving by ship on the east coast were held pending immigration processing. Some were sent back where they came from, for health or other reasons, while others made it through and started a fresh life in the new world. |
I have of course visited this web site and done a search for anybody with a last name of "Couperus". The results are a little disappointing in that only 10 records were returned. I could relate only one of these to a specific individual in the family tree with some degree of confidence, although another two are tantalising possiblities for matching in the tree. I was hoping for more than 10 records, because we know there were more Couperuses who arrived during the period covered, but for some reason they do not appear in the Ellis Island archives - perhaps because they came in at a different "port of entry".) In summary, these archives tell us the following:




Name
Status
Age
Origin
Date
Ship



---

1
Anne
Male, Single
19
Holland
22 May 1907
Nieuw Amsterdam
2
Anne
Male, Single
21
U.S.A.
7 April 1909
Noordam
3
Heblins
Male, Single
23
Hingham, MA
25 Oct 1909
Nieuw Amsterdam
4
Hinke
Female, Single
6 mos
Rodeschuur
24 May 1916
Amsterdam
5
Janke
Female, Married
24
Rodeschuur
24 May 1916
Amsterdam
6
Johannes
Male, Single
2
Rodeschuur
24 May 1916
Amsterdam
7
Mellius
Male, Single
20
Heig (Heeg)
1 May 1906
Rijndam
8
Runk
Male, Married
26
Augustinusga
25 Aug 1915
Rijndam
9
Subren
Male, Single
30
Werden (Wirdum)
6 Mar 1907
Potsdam
10
Sybren
Male, Single
25
Holland
22 May 1907
Nieuw Amsterdam
See note below
11
Gaele
Male, Married
25
Opende/Groningen
17 Feb 1910
Potsdam
In fact, this summary poses more questions than it provides answers.
The "Anne" in lines 1 and 2 is probably the same person who made a trip back to Holland and re-entered. At first I had doubts about the name, as I assumed that "Anne" must be a girl's name, but this entry is listed as male. However, I have since found out from people more familiar with Frisian that this is perfectly acceptable as a boy's name. Notice that he arrived initially on the same ship as the Sijbren in line 10, so likely this was a relative - more about this Sybren below.
The "Heblins" in line 3 is a bit of a mystery. The this name does not appear anywhere in the original family tree - or even a close spelling. He apparently was already living in the United Sates giving an address of Hingham, Massachusetts. But we know that the Mellius in line 7 (see below) founded the family branch located in Hingham some three years earlier. (In correspondence with a descendant of Mellius, I have confirmed that this is indeed where the family farm was located, and where she herself grew up.) But also note that this "Heblins" (23 years old in 1909) is pretty much the same age as Mellius (20 years old in 1906). So a good guess might be that "Heblins" is the same person as "Mellius" - maybe after establishing himself in Hingham, he took a trip back to the old country and got his name mangled at Ellis Island when he re-entered the United States.

I have subsequently examined the original record of the ship's manifest for this entry, and it seems clear to me that whoever transcribed this name into the database at Ellis Island mis-read the original handwriting as "Heblins" when in fact it should be "Mellius" - and this would confirm my supposition.